TRAIN LIKE a PRO with TECHNOLOGY

No doubt, golf is very technical. But modern training devices like Flight Scope, BodiTrak or Blast Motion are only helpful if a coach understands how to transform complicated data into reactive athletic movements that also deliver results when it counts. Coach Chris can Help :
Create your Train Like a Pro Package & A Data Driven Game Plan: 
1 Lesson $95 45 Minutes
2 Lessons $180 
3 Lessons $255

Technology Equipment Available in Peachtree City
GASP Video Swing Analysis - Seeing is Believing 

FlightScope X 3 - Launch Monitor - Ball & Swing Speed....& MORE

BodiTrak - Pressure Mat / Ground Force / Learning how transfer Energy

4 D Motion - Body Movement Assessment

Blast Golf & Hole More Putt Tablet - Focus on Putting Fundamentals & Tempo

Blast Motion Devices available from Chris along with a year's Blast Connect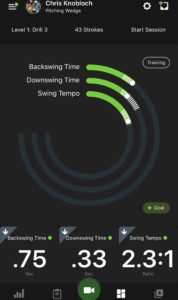 Take the 50 Yard Wedge Challenge
Spend time  working on your putting and alignment
Improve Your Game.
For golfers of all standards, Hole More Putts is the high tech solution for one of the most challenging parts in the game of golf – Putting, accounting for 40% of your shots. To do this Hole More Putts measures the 5 Impact Factors defined by the PGA: