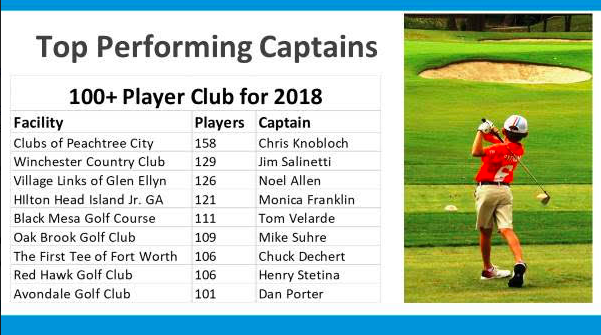 Peachtree City is proud to have the largest PGA Junior League participation in the USA in 2016, 2017 & 2018
FALL Junior League heads into last week of the season… playoff spots available!
Cost: $200 ClubCorp Golf Members / $ 225 Social or Guest – ** $ 75 will be required/ non refundable deposit at registration –
the balance of your Junior League fee will be due at your first practice and paid to your team coach.
Coaches main focus at team practices:
Teaching Jr League Rules & Format
Being ready to play especially on the greens
Limit practice swings
Jr League Practice have limited instruction… Junior Golf 365 Classes specialize in Swing Fundamentals & Scoring Coaching. Click HERE for our Fall Program
Have parents assist us keeping the kids moving by limited the over coaching on the course. We can't do this without Parent Support!
13 U Fall PTC/PGA Junior League PLAYOFFS – NOV. 3rd @ Braelinn
SEMI – Fall Match: 1 PM / Championship Match 3:45 PM – November 3
Braelinn Eagles ( H ) vs Planterra Panthers ( A )
WhiteWater Warriors ( H ) vs Braelinn Crushers ( A )
Home team wearing Orange Jerseys – Away Team wearing Blue Jerseys
Final Season Standings
Braelinn Eagles 6 – 0
WhiteWater Warriors 4 – 1 – 1
Braelinn Crushers 4 – 2
Planterra Panthers 2 – 3 – 1
Braelinn Bombers 1 – 5
Flat Creek Fuego 0 – 6
1st Match Sept 15 – Course  – Planterra RESULTS
Braelinn Eagles 10 – Flat Creek Fuego 2
Braelinn Crushers 7 – Braelinn Bombers 5
WhiteWater Warriors 7 – Planterra Panthers 5
2nd Match Sept 22- Course Braelinn RESULTS
Braelinn Crushers 8 . 5 – Flat Creek Fuego 3.5
WhiteWater Warriors 8 . 5 – Braelinn Bombers 3. 5
Braelinn Eagles 8 . 5 – Planterra Panthers 3.5
3rd Match Sept 29 – Course Planterra RESULTS
Planterra Panthers 8 – Braelinn Bombers 4
WhiteWater Warriors 7.5 – Flat Creek Fuego 4. 5
Braelinn Eagles 8. 5 – Braelinn Crushers 3.5
4th Match Oct 6 – Course WhiteWater RESULTS
WhiteWater Warriors 7.5 – Braelinn Crushers 4.5
Braelinn Eagles 9.5 – Braelinn Bombers 2.5
Planterra Panthers 8 – Flat Creek Fuego
No Match Oct 12 – Alpha Tour Event
5th Match Oct 20 – Course WhiteWater RESULTS
Braelinn Crushers 6.5 – Planterra Panthers 5.5
Braelinn Bombers 7 – Flat Creek Fuego 5
Braelinn Eagles 11 – WhiteWater Warriors 1
6th Match Oct 27 – Course Flat Creek RESULTS
Braelinn Crushers 6.5 – Braelinn Bombers 5.5
Braelinn Eagles 9.5 – Flat Creek Fuego 2.5
WhiteWater Warriors 6 – Planterra Panthers 6
Playoffs Nov 3rd – Braelinn – Semifinals 1:00 / Finals 3:45
13 U PGA JUNIOR LEAGUE – Overview of the RULES
Play VIDEO to learn
How to PLAY
A game is played between two teams. During the course of a game, four matches are played by at least two players from each team against each other.  The winner of the game is determined by the total number of points won within all matches.
Friends, family and spectators are encouraged to attend and watch – but not participate or aide – each game!
A team is a collection of eight to twelve players, boys and girls of any ability, who work together during the course of a game against another team.  Each team is Captained & Coached by one of our ClubCorp Management Staff from PTC or White Oak.
Format – 2 Person Scramble
A scramble is a popular format that encourages teamwork and problem solving. Each player will tee off at the beginning of each hole. The team then selects their best shot of the two and then each player plays again from the spot of the selected shot. Repeat this process until the ball is in the hole.  The team with the lowest score wins the hole.
Stroke Maximum: Triple Bogey is the stroke maximum on a hole. No hole in PGA Jr. League Golf can be won with a triple bogey. Any team failing to finish the hole after reaching 2-strokes over par should pick-up. If both teams are forced to pick-up, then the hole is halved.
A match consists of two teammates (or three, with a substitute) competing against a similar grouping from the opposing team in a fun, nurturing scramble format.   The match lasts for nine holes and is broken up into three 3-hole segments called "flags".
Flags are 3-hole segments of each match. Since each match is played over the course of 9 holes, there are three flags per match.
Whichever team wins the most holes within each flag (i.e. 3 holes-to-0 or 2 holes-to-1 hole), wins the corresponding flag.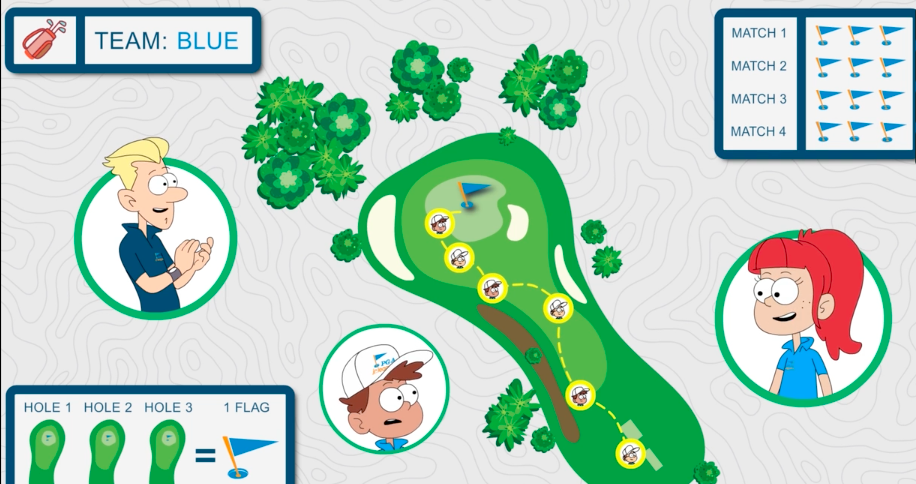 Each flag won by the team is worth one point. Each tied flag won by the team is worth a half point. The team with the most points at the end of the game wins.Since there are four matches in each game, and each match is played for a maximum of three points, there are a maximum of 12 points total in each game.
***PACE of PLAY policy –  All 13U League Matches must be completed in 2:30 minutes… if a group has not finished a hole, that hole is tie.     A group must not start a new hole after 2 hrs 20 minutes after the start of the Matches.  
Let the Kids Enjoy the Play!
PGA Junior League Golf is a fun, social and inclusive opportunity for boys and girls, ages 17 and under.  PTC 's Spring & Fall Leagues will have 2 divisions: 13U & The Challenge Tour (formerly 17U League)  Similar to little league baseball, juniors are divided into teams and coached by our PTC Staff Members – Included in league registration:  Weekly team practices, 6 Match Season with additional league playoffs ( for 13 U league only), 2 jerseys and an opportunity to earn All Star status and represent PTC in the pursuit of a National Championship ( SPRING ONLY)
National Sponsor of PGA Junior League… Click on the EPEC Logo for info – Premium Junior Clubs with a FREE UpGrade as your junior grows.
Let the Kids Enjoy the Play!
 13U League Parents are encouraged to bring their own golf cart each week – Each course has a limited # of carts available as they are open for member play at the same time we have our matches.  Also – each family is limited to one club owned golf cart.  If an additional cart is needed, a cart fee will be charged.
PTC/PGA Jr League Guidelines for Parents & Pace of Play – HERE  ALL Parents MUST sign
THE CHALLENGE TOUR… Fine Tune your Playing Skills!
The Challenge Tour (formerly 17U League ) Boys & Girls, Ages 10 – 17 players will be split into Levels and all players will have the opportunity to play 9 holes –  A players level will determine the tees a junior plays. Junior may move up and down based on their week's score. Weekly points are accumulated based on their performance – Results will be posted on JuniorGolf365.com/challengetour  – 6 Week Season with a bonus match play tournament for top 16 point leaders… more details to come… the season starts in late Sept – Nov.
Juniors will walk / carry their own bag or use a pull cart – Parent / Spectator carts are not included in the league fee, but may be purchased weekly from the golf shop.  There is no charge for Personal Carts.  Players maybe shuttled in golf carts in between holes, but all Carts and Parents must remain on the cart path.   We do encourage parents to help look for stray golf balls, but our goal is to simulate other Junior Tournament events. Thanks for your support.
The Challenge Tour Cost: $ 165 for Juniors enrolled in our Competition KidZ Program, $195 for ClubCorp Golf Members – $225 for Social Members/ Guests – This fee may be put onto club account