JUNIOR GOLF 365
Coach Chris
Junior Golf 365 is the Youth Development Program for Ages 4 + in  Peachtree City, Georgia developed, organized & coached by Chris Knobloch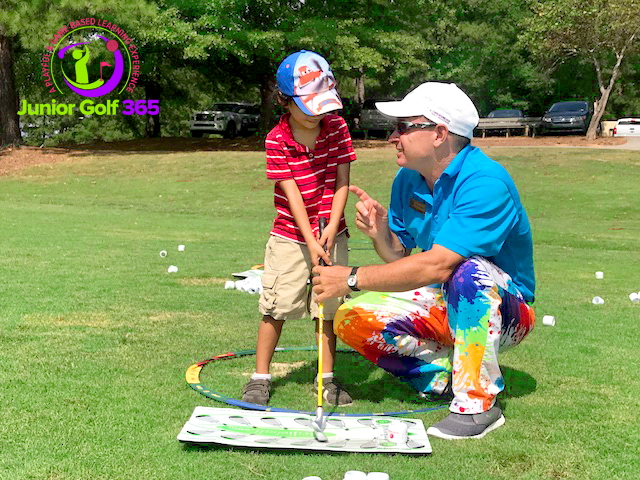 The Philosophy of our Junior Golf 365
Create A Playful Learning Experience with Game Based Adventures for Ages 4 +
CHRIS KNOBLOCH
 One of America's Junior Golf Leaders is coaching  in Peachtree City, GA  @ Braelinn Golf Club.
Chris brings his energy, enthusiasm and colorful style to every lesson/program with a continual desire to see his students improve. A mix of GAME based Learning Experience, creating a PLAYful Atmosphere, using TECHnology to Entertain and Educate. His hands on coaching has impacted thousands of golfers of all ages. Chris has been Playing golf for over 40 years and teaching kids & adults since 1987.
Awards & Certifications:
2019 Top PGA Junior League Program in Georgia & TOP 25 in the United States
2019 GRAA Top 50 Growth of the Game  Teaching Professional
2017 Georgia PGA Youth Development Leader
2008 Georgia PGA Growth of the Game Professional
28 Year PGA Member
Discover Golf Coach & Ambassador
2011 USKIDS Golf Top 50 Master Kids Teacher –
            2008, 2009, 2010 USKIDS Golf TOP 50 Kids Teacher
USKIDS Golf Certified Coach – 1st Class of Certified Coaches
TATHATA GOLF Movement Specialist
TPI Golf – Junior Coach Certified Level 3
SNAG Certified Coach
Flightscope, BodiTrak, Blast Motion, SAMPutt Lab Certified
Plane Truth – Level 1 Instructor
ClubCorp Rising  Star Award – 2016, 2017 – Super Star Award 2018,
Video Interview of Chris  CLICK HERE
Program Information at JuniorGolf365.com or Text Chris @ 770-402-8749
"Our kids have participated in the PGA Jr League over the last couple of years.  This year, we even had the privilege of participating in the post-season All-Star team.  We've been so impressed with how Chris has led the junior program.  Along with being excellent golf instructors, Chris, Maeve, & Diane have focused on teaching great sportsmanship, etiquette, and teamwork.  They are teaching kids to play golf "the right way", and their focus on these things has made the Peachtree City junior program a real joy to be involved with."   Steve & Maura L.
"Dana and I recognize that our children are fortunate to be a part of such a positive golf program.  In fact, the Junior Golf Program is the primary factor for our continued membership in the Clubs of Peachtree City.  It is just that valuable to us, as well as to many other families in the area."  Dana & Allison F.
This error message is only visible to WordPress admins
Error: No posts found.
Make sure this account has posts available on instagram.com.